Finding the perfect gift for him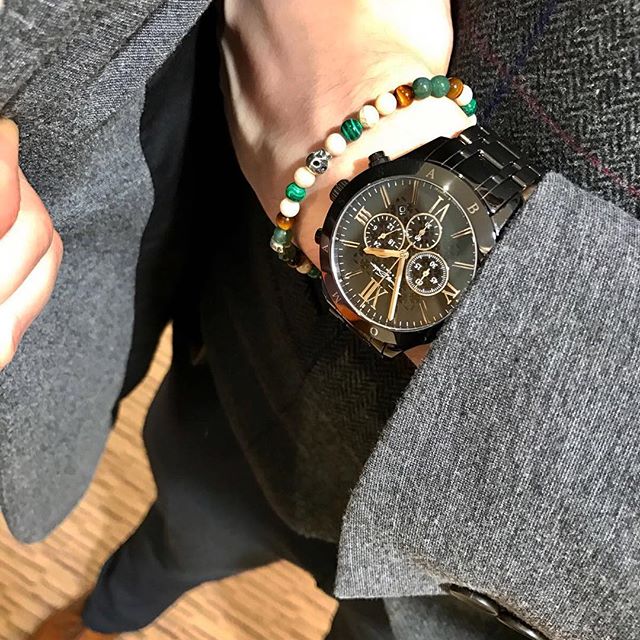 Finding the perfect gift – for him
When it comes to special occasions finding the perfect gift can be tricky, especially if you don't know where to start.
If you're struggling to find the perfect piece of men's jewellery, we've put some top tips together that can help steer you in the right direction.
Think about their interests
Keep in mind the interests of the person you're buying for. This might help narrow down your choices of brands and designs. For example, if you are buying for someone who is a fan of sailing you might opt for brands or pieces that really showcase a nautical theme.
Some watches for example often appeal to different interest groups, for instance if you're buying a gift for someone who is a fan of motor racing or luxury cars you tend to find a lot of F1 teams and luxury car brands do special edition watches such as TAG Heuer with their sponsorship of Red Bull Racing and Aston Martin.
Tying your choice of gift into an interest is a really great way to make that present resonate with someone more and shows that you know what they enjoy.
What do they normally wear?
With jewellery there's a huge amount of choice. From necklets and bracelets to rings, cufflinks and watches.
Think about who you're buying your gift for and the types of jewellery they already wear. There's little sense in buying a bracelet for someone if you suspect that they are never going to wear it, you should instead try and think of pieces that will complement their lifestyle.
Someone who wears a suit every day for example, might appreciate some new cufflinks that will let them change at least a small part of what they wear. Whereas if someone enjoys extreme sports or outdoors hobbies you might look at watches that can endure being submerged underwater, or smart watches that can track and monitor the wearer's activity.
Keeping the overall style of someone in mind is also key. Within each type of jewellery there's so much choice and variation, but you want to choose something that will have immediate appeal.
Look at the pieces someone already owns, this can often give you a guide as to what sort of jewellery they like, from pieces that incorporate leather and more natural looking designs to simple understated pieces or more extravagant attention-grabbing jewellery. Tying into someone's existing style is a great way to give a gift that someone can fit into their existing wardrobe and start enjoying.
 
More than a simple gift?
Some gifts take on a much more personal and sentimental tone. Maybe your gift isn't just for Christmas but is supposed to mark a special occasion or an event.
Engraving and personalisation can add a meaningful touch. Adding an important date or message to a piece of jewellery makes it extra special. This is a great extra option to consider if you want your gift to mark an important event or anniversary such as a birthday or wedding, with our Thomas Sabo range being a great place to look for these engravable gifts, or a more classic gift such as a pair of Links of London cufflinks.
If your gift is to mark a special occasion, and you want it to be perfect this is where a professional jeweller can help you find a unique piece that will be a precious keepsake.
Helping you find the perfect gift this Christmas
Our instore experts with years of experience are always on hand to help find the perfect purchase. Emma our Preston store manger says "To not offer a range of gents jewellery seems old fashioned, during my time working in the watch and jewellery industry we have seen fashion become an integral part of our trade as it has become the norm for men to wear more jewellery and be up to date with fashion just as much as our female customers. This year the Hugo Boss watch and cufflink has been a hot item for Christmas showing the fashionable name to be as enticing to our clients as any other watch or jewellery brand."
We hope this has helped you to narrow down the variety of gifts available in order to find the perfect piece for your loved one.
If you need more help, or want more guidance and information to help you make the right choice why not call in to our stores and speak to one of our experts? We're on hand to help you pick the perfect present and are more than happy to talk through your different options in more detail.
To find your nearest Peter Jackson the Jeweller, or to get in touch with a member of our team you can visit our contact page.