Oris Dive Control Limited Edition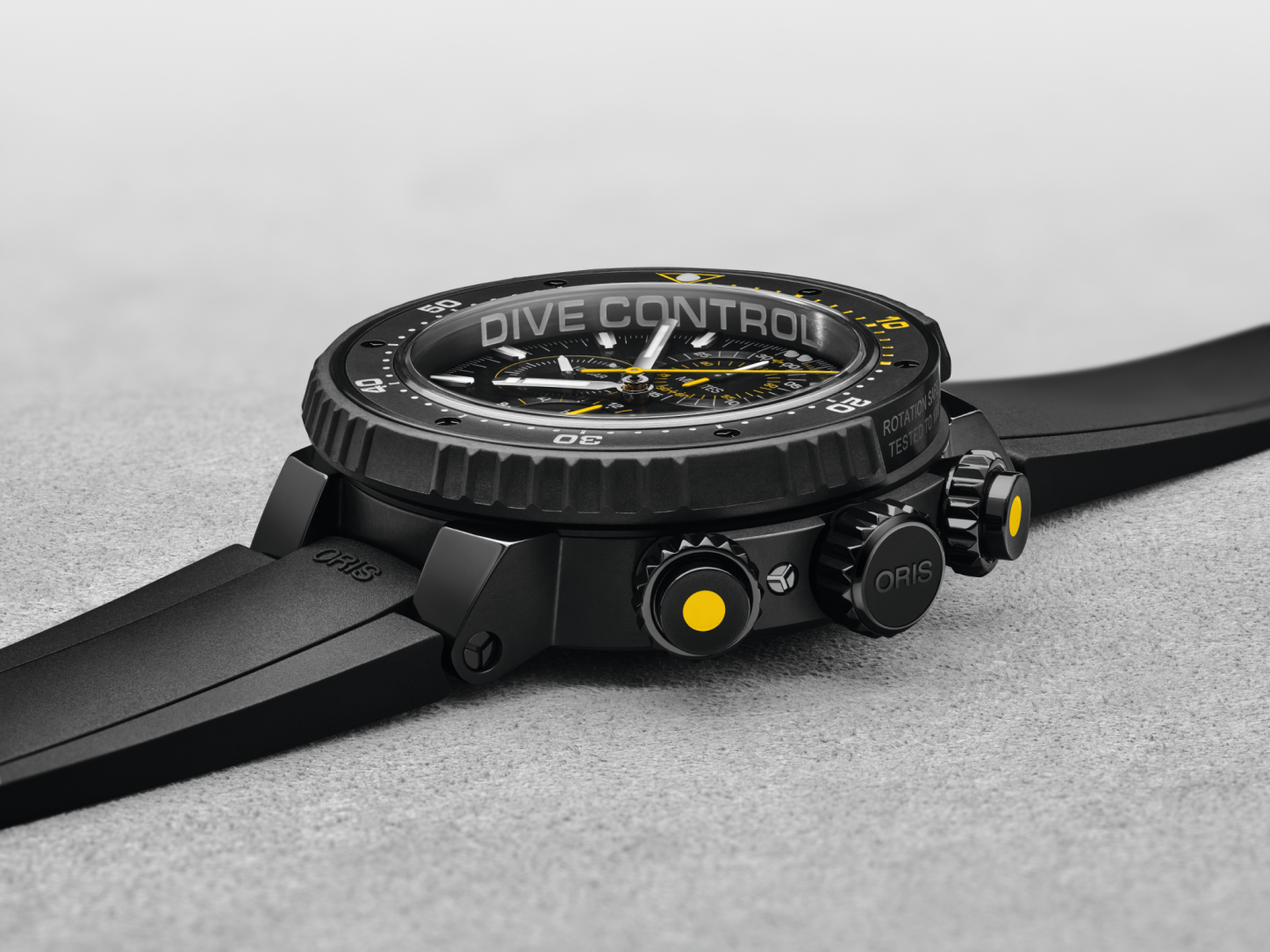 What you need to know about the Oris Dive Control watch
The latest and greatest limited-edition watch from Oris, Dive Control, is soon to hit our Bury store. Complete with the diving pedigree that encapsulates the Swiss brand's commitment to producing a premium, usable watch, it is available at a highly competitive price. This watch isn't just promoted as being water friendly, but actually proves itself to be. Limited to just 500 pieces worldwide, I predict, that with its functionality and striking looks, the Oris Dive Control could well be the professional diving watch of the year.
Assembled in Oris's headquarters, situated in the village of Hölstein in the North-West of Switzerland, Dive Control has all the features you would expect from an Oris watch – sapphire-crystal glass, a folding clasp, and a Swiss-made movement customised by Oris to the company's exacting standard. So, what makes this watch different and helps it to stand out from other diving watches?
Patented safety technology
The stand-out feature of this timepiece is the 'RSS' or 'Rotation Safety System', which is featured on every watch in Oris's ProDiver collection. This patented component, which Oris has developed, provides a locking system to ensure no movement of the bezel.
Mistakes can be fatal in professional diving. Oris has called upon the the insight and knowledge of Roman Frischknecht, a Swiss commercial diver, to help develop the RSS system. A standard uni-directional bezel is a key tool for divers to gauge time and your current reserve of oxygen – the slightest adjustment to the bezel could affect you massively. This locking system helps to ensure accuracy and creates peace of mind.
Extra safety precautions while diving have been ensured by the bezel, but there are still plenty of diving features as part of the watch. This includes an automatic helium escape valve to regulate the pressure of diving, a screw down crown and pushers to prevent water seepage, and a massive 1000m resistance to water. There's also a chronograph with three sub-dials on the wave laden dial, which is an added tool to use as you wish.
Quirky styling
For a watch to have commercial success, it needs to have visual appeal to back impressive technology. This is where this watch really comes into its own and gains greater appeal by being a limited series.
A bold combination of black and yellow is eye catching to say the least, especially when paired with the alternative yellow strap. Certain features are also highlighted by white with the yellow on the dial, as readability is essential.
DLC treatment, otherwise known as diamond-like-carbon, has been around for a few years. Oris has dabbled with the robust plating in the past, most famously with its Motor Sport 'Williams' collection, but this is the first ProDiver watch to be given this edgy look. At first glance, the 51mm case might appear cumbersome, but the combination of grade 2 titanium for an ultra-lightweight feel, and shortened case lugs, help this watch feel much more at home on the wrist.
Finishing touches
Completing the limited-edition package, Oris supplies each watch head with both the black and yellow rubber strap to fit onto the black DLC folding clasp, with your own professional strap changing tool. Plus, you have the addition of the now famous waterproof presentation case, which is becoming synonymous with Oris's limited edition ProDiver watches.
To summarise, yes, this is built for professional diving with its large case for readability. Would the average person be using all the features to the Dive Control's full capacity? Well, probably not. But, in a world where pricing has no rules, I think this watch will make people question what they are actually getting from similar products of other brands. This big handsome brute from Oris is for the purist, the collector, the person that wants to stand out from the crowd. And, in doing so, they know that their watch is more than up to the job of doing whatever life throws at it.
To find out more about the Dive Control watch, please click this link.
Danny Bond P.J Dip
Brand

Material

Oris

Grade 2 titanium with diamond-like-carbon

Strap style
Rubber
Style
ProDiver watch
Features
Rotation Safety System bezel, DLC coating, chronograph, limited edition
Case size
51mm
Movement
Automatic winding chronograph: Oris 774, base SW 500
Supplier code
01 774 7727 7784-Set
Water resistance
1000m
Price

Warranty

£3900

3 Years