The Complete Guide to Buying an Engagement Ring: From the Experts at Peter Jackson the Jeweller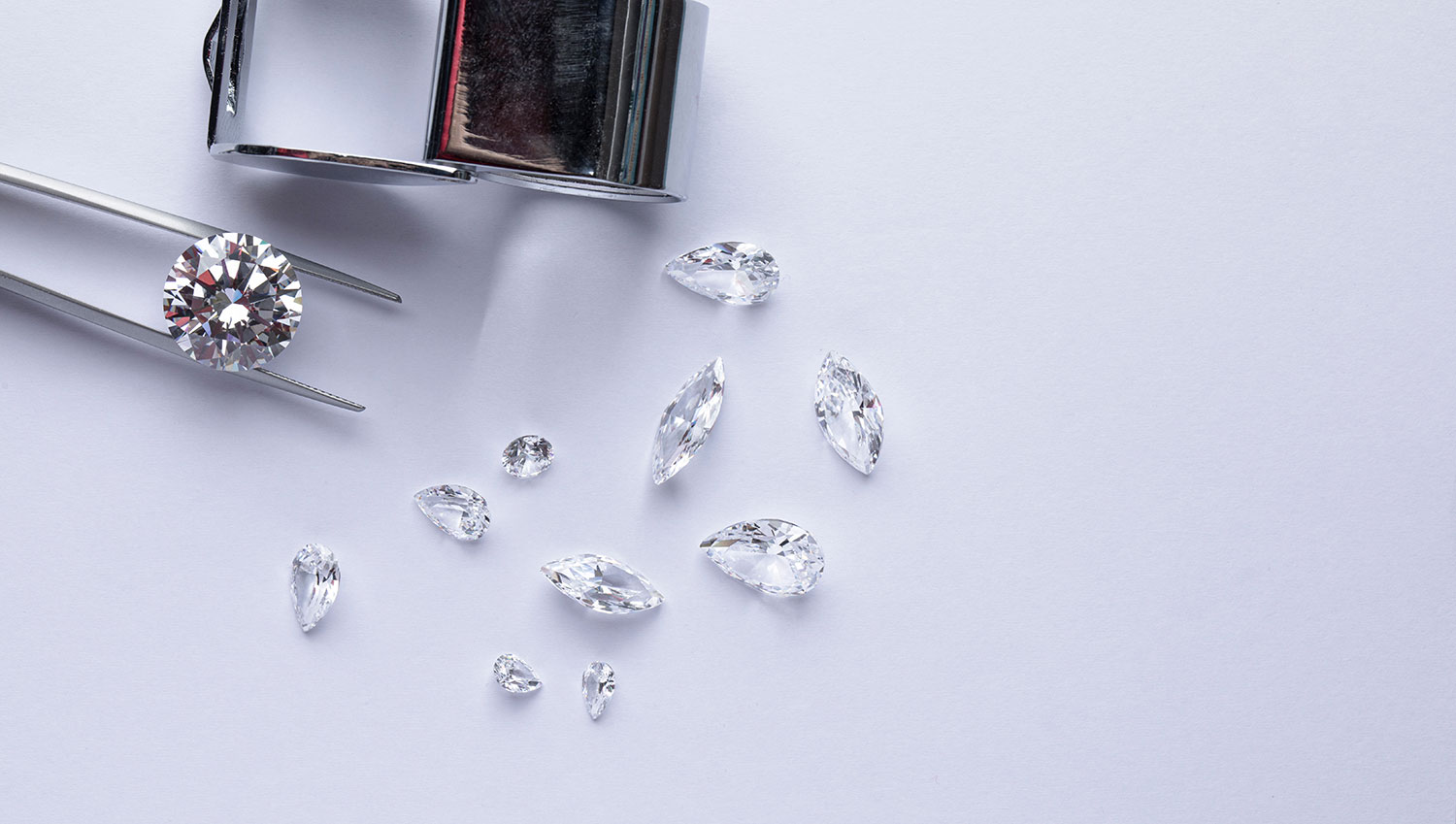 Buying an engagement ring is one of the most important and intimate decisions someone can make and it's usually a once-in-a lifetime experience too.
Although you may feel a lot of pressure to get it right, choosing the right engagement ring doesn't need to be a difficult process, especially if you do your research and speak to the experts.
At Peter Jackson the Jeweller, we're committed to providing you with the very best in customer service, not just in store, but on our website too. That's why we've produced this helpful online resource – 'The Complete Guide to Buying an Engagement Ring' – so you have all the information you need to make the right decision for you and your loved one.
Throughout this guide, we lean on the expertise from our very own Peter Jackson, who has decades of experience in choosing and sourcing quality diamonds and metals, ensuring you have the best possible choice of the most exquisite engagement rings.
Engagement ring frequently asked questions
We've outlined some of the most frequently asked questions when it comes to buying an engagement ring. These should cover everything you need to know from how much to spend to how to find out your partner's ring size.
How much should I spend on an engagement ring?
Before you can start choosing the perfect ring, you need to have a budget in mind. Although this may feel as if you're taking away from the significance of the purchase, you should never feel pressured to spend more than you can afford – or feel tied down to traditions.
If you're not sure what budget to allocate to an engagement ring, discuss what kind of styles and types of rings you like with an expert. This will give you an idea of how much you might need to buy your preferred ring.
With many jewellery companies, such as Peter Jackson the Jeweller, you can look into finance options for purchasing the engagement ring, allowing you to have more flexibility in your budget.
Where should I buy an engagement ring from?
You may have a specific jeweller in mind when it comes to buying an engagement ring – but remember to check their credentials, in regards to sourcing diamonds, before you make a purchase.
With Peter Jackson the Jeweller, Peter Jackson often travels to Antwerp, New York, and Yellowknife Canada to source the diamonds for our range of engagement rings, personally choosing each and every one. This ensures each diamond meets Peter's strict criteria for clarity, colour, and cut.
Make sure you feel at ease with your jeweller and that you aren't being rushed into a decision. Take note of their aftercare programme, including warranty and insurance, as well as any gift-wrapping services ,and perhaps have a look at their reviews on Google and Facebook
You might choose to buy your engagement ring online, which is becoming a more popular option. You should ensure you're buying from a reputable company and that there's a robust returns process in place and helpful customer service. At Peter Jackson the Jeweller, you may even find yourself speaking to Peter Jackson himself when using our online chat function!
How long should you take I decide on an engagement ring?
If you're buying a bespoke engagement ring, you should bear in mind that this may take longer than a ready-made ring. However, that shouldn't deter. This is a big decision and one which should last a lifetime.
Take your time when it comes to choosing the right engagement ring. Don't feel rushed into a decision by sales people. You may have a select date in mind for when you'd like to propose – ensure you let the store know about this, so they can show you rings which will be available for that date and advise you accordingly.
And if you do find a ring that you could potentially buy on the spot, it's a good idea to mull it over by visiting other stores nearby or even going for a coffee. Take this time to really envisage presenting the ring to your partner and what their reaction might be. Think about whether they'll love the ring just as much in ten, twenty, or even fifty years' time – and if it's robust enough to last until then.
Do I have to stick with traditions when it comes to buying an engagement ring?
Absolutely not. If traditions are your thing and you'd feel more comfortable following them, then don't be afraid to do so. But if your partner isn't a diamond person, or maybe a simple band would do the trick, don't feel you need to buy a 'traditional' engagement ring simply because that's what tradition determines.
Some people even decide to forgo a ring altogether and propose with a watch or earrings or necklace. You know your partner the best, so make a decision that you know will make them happy, not what society states.
If you and your partner have made the mutual decision to get married, you may decide to choose their (and your) engagement ring together. This can be a truly wonderful experience – and means you both get exactly what you want!
How do I find out my partner's ring size without them knowing?
If you do decide to propose with a ring, you may be wondering how to find out your partner's ring size – especially if it's not something you've needed to know before.
One thing to remember is that you don't actually need to know their exact size when purchasing. If they wear rings on a daily basis, you can use one of these as a rough guide. If they don't wear rings, you could take an educated guess and hope for the best.
Remember, high quality rings can be adjusted and resized, so even if you get it wrong, your partner will still be able to enjoy their ring in its box and wear it once it's been resized.
Engagement ring size chart
If you need further information on what size to choose, you can utilise our engagement ring size chart below: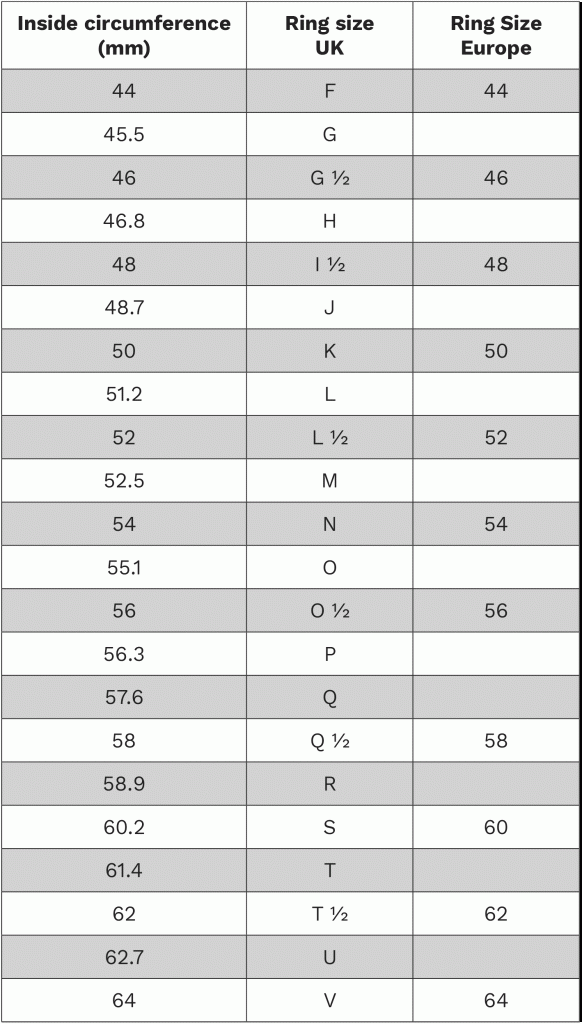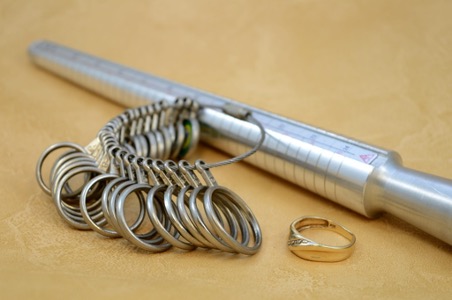 Choosing your engagement ring style
How to choose the perfect diamond
For many people, choosing an engagement ring will be the first time they've ever had to consider diamonds. Here's a quick run-down of the top features you should consider.
Diamonds should be colourless – and the closer to colourless they are, the rarer they will be. This is a good indication that they're more valuable, making your choice of engagement ring an investment for the future.
Selecting diamonds for jewellery is an extremely specialist process, which takes years to perfect – luckily, our diamonds are personally selected by Peter Jackson, with over 30 years of experience of providing beautiful collections for our four north west stores.
When it comes to getting the cut of the diamond, quality is key. Peter Jackson reviews each and every diamond individually – and actually rejects up to 80% of the diamonds we receive because the cut simply isn't up to his standards. The cut of a diamond is important as this is how well your diamond will catch the light and sparkle. Symmetry and precise proportions are key!
Of course, as with anything in nature, nothing is perfect – and this is the same for diamonds. However, Peter ensures that each and every diamond he chooses meets his required criteria for dealing with 'Mother Nature's Fingerprint' . This means selecting diamonds that have fewer inclusions that they don't interfere with the brilliance of the diamond.
You may have heard about carats when looking at diamond products previously – but you might not actually know what it means. Carat refers to the weight of the diamond; one carat is 0.2 grams. The heavier a diamond is the rarer and more valuable it will be. This also means that the heavier a diamond is, the more expensive it is too (dependent on the colour, clarity and cut). An interesting fact to note is that only one diamond in a million weighs a carat or more.
Diamonds aren't naturally mined in different shapes. They need to be cut (see above) in order to reach the desired effect. We'll go through the shapes of the diamonds you can choose in more detail below, but some of the more popular shapes include: princess, oval, pear, and round brilliant.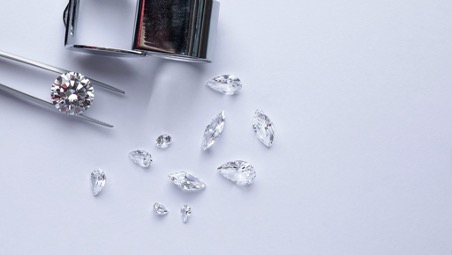 How to choose the right diamond cut (shape)
There are plenty of options to choose from when it comes to diamond cuts (shapes). Some are more unusual than others, but it all comes down to the style of your partner and their personal taste.
Round brilliant
Pear
Baguette
Oval
Marquise
Cushion
Emerald cut
Square
Heart
Alternative engagement ring gemstones
If you don't think diamonds will be the perfect choice for your partner, or you're after something a little different, why not consider an alternative gemstone engagement ring? Certain gemstones, or even birthstones, might have significant meaning to your partner and can be a special memento for them. You can also set diamonds with coloured gemstones to create a truly breath-taking ring.
Remember, one of the world's more famous engagement rings was the stunning blue sapphire and diamond ring of Princess Diana that is today worn by Kate, The Duchess of Cambridge.
Gemstones can often be more affordable than diamonds, if that's something you're thinking about. Take a look at just some of the options you might consider:


Amethyst
Aquamarine
Blue Zircon
Citrine
Emerald
Garnet
Morganite
Opal
Peridot
Ruby
Sapphire
Topaz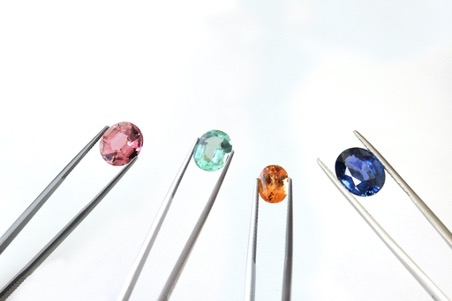 What metal should I choose for an engagement ring?
Look for durability and style when choosing the metal for your engagement ring. An engagement ring should last a lifetime, with regular maintenance and looking after. However, certain metals can affect the price of your piece, so do bear that in mind.
With gold, you can usually choose between 9ct or 18ct – but what's the difference? We'll go through some of your options below.
If you're after something more traditional, this would certainly be a popular choice, as it can look extremely luxurious next to a quality diamond. It's also what you associate with the natural hue of gold, with warm tones along and rich lustre – the perfect choice for a classic, traditional look.
Adding white metals, such as silver and zinc, turns the gold a silver-grey colour. Plating the finished article with rhodium gives the jewellery the bright sparkling effect that we know as white gold. This perfectly complements the brilliant diamonds.
Rose gold is fast becoming a popular choice when it comes to engagement rings. The rose colour is achieved by adding copper to the alloy. If you like the warmth and richness of this hue, rose gold could be the one for you.
Platinum is rarer and harder than gold. Typically, only 5% of alloy is added. Although platinum is a much harder metal to work with (which adds to the cost), the end result is a very durable but beautiful. A platinum ring doesn't need rhodium plating and won't tarnish over time, requiring little maintenance and security for the gemstone.
Carat refers to how pure the gold within the ring is. The higher the carat, the higher the proportion of gold within the ring. 9 carat is the minimum standard recognised in the UK and therefore the most popular. 18 carat gold is far purer and has a richer, warmer colour.
So, 9 carat or 18 carat? Yellow, white or rose gold? The choice is yours. Let our experts guide you and explain the differences.
How to choose the right style
So you have an idea now of what your engagement ring might look like. But there's another element to think about – the setting. This refers to how the diamonds or gemstones might sit in the ring, and how many diamonds or gemstones are required to fill the setting. Let's go through these below.
If your partner's style is simple and chic, then a solitaire setting may be the right choice. This simply means that you have one diamond or gemstone, which is held in place by usually 4 – 6 claws. These allow the diamond to shine and showcase itself as much as possible. Although simple, this certainly doesn't take away from the elegance of the design.
Fancy something a little more intricate? A cluster setting could be the solution. Usually, a cluster ring contains a slightly bigger stone within the middle, and then smaller stones around the outside of this. The larger diamond or gemstone is showcased superbly and set off by the smaller stones, creating an eye-catching piece.


If you're after something more traditional, then the three stone setting might work for you and your partner. The three stones are said to indicate your past, present, and future with your loved one. Even without this extremely romantic backstory, the three stone setting is perfect if you're looking for something simple and understated, but still fabulously elegant.
Similar to a cluster setting, the halo does exactly what it implies – surrounds the focus diamond or gemstone with multiple smaller stones. The difference to a cluster setting is that the smaller stones are set tightly around the edge of the larger stone, creating an illusion of there being a much bigger diamond or gemstone in the middle.
Book an appointment in store
Choosing an engagement ring, whether alone or together, is an intimate and personal experience. At Peter Jackson the Jeweller, we know how special this purchase is, which is why we recommend booking an appointment in store, with one of our experts – or try our virtual service too and chat with one of our team via Zoom, or simply call in whenever is convenient for you.
Discuss warranty and insurance
An engagement ring is an expensive and important purchase – regardless of the financial implications, the sentimental value alone makes it worth insuring. Make sure you discuss warranties and insurance with whoever you're buying from, as these are important issues to consider when making an engagement ring purchase.
Our collections
We have a number of beautiful engagement ring collections at Peter Jackson the Jeweller. Take a look below at some of our gorgeous collections – and don't forget, if you can't see something that's just right, contact us directly and we'll be more than happy to talk through exactly what you're after.
The Peter Jackson Collection is a beautiful range of engagement rings, handpicked by Peter Jackson himself. This range showcases Peter's precise eye for diamonds, providing you with the cut and clarity that will make their heart dazzle.
Deep under the ice and snow of the Canadian Arctic, diamonds have been discovered close to the remote and beautiful town of Yellowknife.
A select proportion of these diamonds are retained to be cut and polished in modern state-of-the-art factories in Canada, where the standards demanded from the diamond cutters are the highest we have experienced anywhere in the world. The result is a finished gem of exquisite brilliance and beauty.
Peter Jackson the Jeweller is proud to be the only jeweller in the country permitted to offer you these Canadian Arctic Diamonds.
Graded by the Gemological Institute of America (GIA), our Perfection Collection is simply that: perfection presented in platinum. If you're after flawless and completely colourless diamonds, then choosing an engagement ring from this collection is the right option for you. You and your partner are perfect for each other; why not choose a ring to match?
You can discover all of our engagement rings and collections here.